We started the week with our Sustainable Development Just Dinner in which we discussed what we might look for in charities that we support as Christians. Building on that discussion, a recent graduate, Paloma, shares her thoughts and experiences on the broad topic of stewarding her money both whilst still at university and now, when she is starting out in her working life.
My views on money can pretty much be summarised in this graph: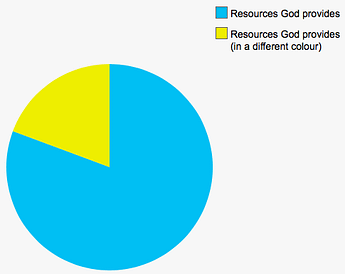 There is a clear Biblical call to steward money in a way that honours God. One of the crucial things I learnt when I first became a Christian, was that this call applied to everyone - at every stage of life. At this time in my life, my only income was about £20 every week from refereeing. At university, I had a weekly living allowance. Only now, do I have what society might consider a 'proper income' and I'm only now a taxpayer. But God has always had the same call on my resources.  
God taught me so much about stewarding money throughout all these stages of my life. I'm going to simply share some practical tips that I've found really helpful both whilst still at university, and since entering employment. I'd love to know what other tips you have! 
1) Be clear on WHY you're stewarding
As with a lot of things, it comes from having your heart in the right place. Understanding that God is the source of everything we have makes it much easier to start thinking about how to use money. I'd thoroughly recommend spending time looking at what Jesus says about money in the Bible. 
So when you give to the needy, do not announce wit with trumpets, as the hypocrites do in the synagogues and on the streets to be honoured by others. Truly I tell you, they have received their reward in full. But when you give to the needy, do not let your left hand know what you right hand is doing, so that your giving may be in secret. Then your Father, who sees what is done in secret will reward you.

Matthew 6:2-4
Other verse you may find useful include: Matthew 6:19-24, Mark 10:17-30 and Luke 20:20-26.
2) Get excited about giving! 
One thing that I found quite frustrating about being at uni is that it sometimes felt limiting. There is amazing work going on, all over the world, to help the vulnerable, spread the gospel, and seek God's kingdom in all sorts of ways. God taught me that by giving financially, however little, I could partake in Jesus-y work across the world that I couldn't otherwise be involved in.  God sets different causes on the hearts of different people. For me, it's the soup kitchen in Peru which feeds and spreads the gospel to young Peruvian children. Pray about where to give, and how much to give.  
3) Consider having a generosity budget
I love this! I allocate a small budget each month to bless others. The only rule is that the money can't be spent on me.  This has taught me a lot about embodying God's radical generosity. I find that I'm so much more willing to buy a Big Issue from my friend Sid every week if I know there's a pot of money especially for that. At uni, this pot used to fun weekly dinner parties (where I'd refuse the let guests pay / contribute). Post a letter to a friend in need. Send a care package to someone struggling. Buy flowers for a stranger. Get inventive - this bit is a really exciting pot of money! I've even started putting this money in a separate bank account so I can more easily track my spend.
4) Tithe from your pre-tax income
I think this is a really important principle. When God sets out the biblical call to tithe (e.g. Deuteronomy 26), it's a call to surrender to Him the firstfruits of what we produce. That's more likely to be money than crops, but we can still make a choice to offer Him that first. The bible offers 10% as a baseline.  If you're not a taxpayer, may I suggest tithing out of your income before you deduct any expenditure (e.g. rent, bills etc.) for the same reason.  
5)Let your order reflect your priorities
For me, stewarding money well involves budgeting well and having a good grasp on incomings and outgoings.  I set a very specific order for my outgoings. That order is:
- Tithing
- Charitable donation
- Generosity Budget
- Necessary expenses (rent, bills, commuting costs)
- Saving
- My lifestyle
The order in which I allocate these funds broadly* reflects their importance to me.  (*I'd love not to have to pay a fortune to South Western Railways, but such is life!)  This is one of the ways that I remind myself to keep my heart in Heaven.  
As I said, I've got so much more to learn in this area. I'd love to learn what you do, and I'd also love to share more about any of these points!
If you're struggling to decide which charities to donate to or volunteer with, then check out our summary of the Sustainable Development dinner in the resources section of our website for some guidance on what makes a charity sustainable!