WORSHIP IN MUSIC -
Chloe Rooke | 3rd year @ Catz | Conductor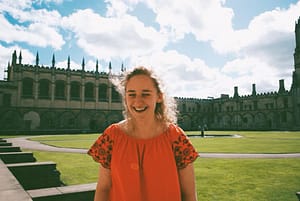 Music runs through the veins of twenty-first century Britain. It wafts from shop doors, follows us on our smartphones, and enters our lives as an inescapable presence. Yet, in a busy world, sometimes I find a space filled with with music to be the only place I can truly connect with God. Though it has become a commodity, music is an intrinsic and unique part of our being. The extent to which we most often choose to include it throughout our days signals its importance; there is something about music which creates in us a space of sanctuary, away from the complexity of life. It moves our emotions and lifts our souls. The path of Christian requires such space on a daily basis in order to reconnect with God, to worship and to recharge our batteries so to live each day in His strength. It is in the beauty and, often, complexity of music that I see God's face. At church, I am encouraged as I stand by brothers and sisters, with whom I know one day I shall join with in Heaven, singing alongside the Angels in whatever way we can, regardless of our musical background. We are built for worship, and the affect of singing lifts our spirit to bring more of ourselves to God. For me, music is also force for ministry outside of church, and I see the beauty of God in the writing of composers who chose to minister through sacred and secular works. J.S. Bach's aria 'Ich Habe Genug' ('I have enough') speaks from a place of finding true contentment in knowing that this world will end, but God never shall. The words are powerful, but it is only with Bach's music that I am moved to tears. The bitter sweetness of the harmony, mournful melodic line speaks into the challenge the message brings for one facing the struggles of twenty-first century life. As my heart is softened, broken by the sound, I am moved to an emotional and spiritual state where I can reach out to God even in a busy, closed world where I might not usually see his face. I am challenged by His word, restored by His peace, and met with His unconditional love.
- WORSHIP IN CLUBBING -
Miriam Lee l 3rd year @ Corpus
Clubbing as an act of Worship? Surely not…?
When have you felt most free? Recently, I have come to realise that I feel most 'free' during periods of sung worship at my church. For me, this sense of freedom encapsulates the deepest experience of joy and release. Getting lost in the words of a chorus or moving with the beat of the instrumental have come to be the times where I feel closest to God and most myself: lost in the freedom to worship the Creator, exactly as He created me as a lover of music and dance.
Whilst at uni, I have been challenged to make every area of my life an act of worship that glorifies God. In particular, to reconcile my love of clubbing and pubbing with my desire to live distinctively. Am I just deceiving myself when I claim that I can honour God on the Park End cheese floor? Sometimes, yes. In no way am I vindicating the times when I have crossed the line in terms of drinking or outfit choices. But a lot of the time, no, I am not kidding myself.
In dancing like a loon with my friends I find my unique outlet to express the joy that I have in knowing that, because of Jesus, I am truly free. As a child of God I walk in His light, without the bondage of earning my sense of worth or creating an acceptable identity. I can be uniquely 'me'. In giving my love of dance and nightlife to Him I must allow Him to guide it, shape it and be central to it which doesn't mean that calling clubbing worship gives me a blank slate to do whatever I want. Yet by letting Him in, I can acknowledge the beauty of what it is to be uninhibited and rejoice in all that he has given me, including my friends and the joy of music.
On a night out I find an openness with people that I see in few other places. I find a common ground of experience on which to deepen relationships with my friends. I find a space for sharing in a way that is not possible, or perhaps permitted, in other scenarios. My worship can become witness when I fully embrace the truth that I do not lose my identity in Christ when I cross the threshold into the pub. In fact, I take Christ with me and in so doing extend my worship to be sharing Christ's joy and freedom that is so central to my life.
"And David danced before the Lord with all his might…" (2 Samuel 6 v 14)
- WORSHIP IN SPORT -
Ben Barber | 2nd year @ Keble | Leads Christians in Sport
"Therefore, I urge you, brothers and sisters, in view of God's mercy, to offer your bodies as a living sacrifice, holy and pleasing to God—this is your true and proper worship."
To me, we can worship through sport in two main ways - that is, creativity and distinctiveness. As humans, we are made in the image of a creative God, and it is often easy to forget that sport can be an incredible way to glorify God through our gifts. This means that when we play sport, we should do our utmost to improve, and to make the most of our God-given ability. A lot of the professional sport, and in fact university sport, that we see today is so broken, and so full of cheating and selfishness. But as Christians, we can worship God by playing sport as we were created to - by pushing ourselves to our limits, but not pushing the rules or boundaries to the limits. This also means recognising that our gifts are from God, and therefore any glory that comes through our sport is rightfully His. The second key aspect of worship through sport is, to me, distinctiveness. As Christians, we are told to follow Jesus' example and love one another, and this also applies on the sports field, even if it is rarely seen. This means that we must play sport in the right way - respecting that it is right to try our hardest both to beat our opponents, but also to love them. A friend told me that as Christians, whether we win or lose, we should be able to justify to our opponents everything we did in the game - this rules out cheating, mocking them, or bending the rules. Instead, it means finding joy in other people's success, such as teammates, and respecting our opponents. Finally, we can worship God through sport by making sure that he is still our top priority, no matter how committed to sport we may be. In the film Chariots of Fire, Eric Liddell refused to run in his Olympic trials, because they were on a Sunday, and he had made a commitment that for him, Sunday's belonged to God. This will look different for all of us, but we should always be guarding against letting our sport take over our lives at the expense of Jesus, because He belongs at the top.