HUNGER FOR… what?
by Lottie Cansdale
hunger, v. – to have a longing or craving; to long for; to hanker after.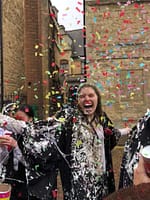 I'm writing this coming off the back of a very stressful week of exams – would not recommend 2nd year medicine! – and instead of the usual post-trashing elation and celebration, I'm just feeling a little bit empty. There's no joy in getting rid of my copious piles of flashcards, anticipation for the non-9am starts, or even excitement to finally know what *free time* is. Just emptiness.
This term our theme is 'hunger for'… but for what? What is it that we hunger for? The emptiness I'm feeling right now is a sign that I have been hungering after the wrong things. Searching for my own success; yearning after other people's approval; trying to find my self-worth in what I can write down on a piece of paper in 3 hours. When we try to fill ourselves with things of the world, so often we end up emptier than we were before.
In Matthew 5:6, part of the Sermon on the Mount, Jesus says 'Blessed are those who hunger and thirst for righteousness, for they will be filled.' The word righteousness is translated from the Hebrew word tsedeq – which involves the idea of right relationship between us and God. When we are hungering for righteousness, we are seeing the brokenness of sin in the world, in our actions, and in our hungering after the wrong things – and instead turning our desires towards God, yearning to be made more like him and to model his character in the way that Jesus showed us.
However, tsedeq doesn't just stop at right relationship between us and God, because that's not the only relationship that got broken by sin. Sin tore apart the relationship between us and God, but also between us and ourselves, creation and the people around us. Through the cross, God begun the restoration of these relationships, reconciling all things to himself, which will finish with the new creation and beautiful picture of the new heaven and new earth that we looked at last term in Revelation 21.
To hunger for righteousness – and therefore justice – is a far deeper hunger than most of us, privileged with beds to sleep in and internet to browse, will ever have experienced. It's a deep, visceral feeling of longing. It's a heart cry for the healing and redemption of our broken world, a hunger that isn't fully satisfied until the kingdom of God is seen here on Earth. It's a terrifying, all-consuming hunger, taking up our every thought, word and deed. We are led to spend ourselves on behalf of the broken, the poor, the hungry, and in the process model the justice of Jesus and the sacrificial love he lavishes on us.
But the amazing thing about this hunger is that Jesus promises we will be filled. By hungering after the kingdom of God we hunger after the character of God – and we can only ever be truly filled with the person and promises of Jesus.
Join Just Love this term, as we dream of what would happen if students were to let this over-whelming, all-consuming hunger for the justice and righteousness of God be the driving force of all we do.
---
Lottie is a second year medicine student at St Hilda's, President of Just Love Oxford, and an awesome person all-round!
Just Love Oxford is not responsible for the content of external links. Bible references are to the NIV.
[
image description
(cover): Lottie is standing in front of some paintings, speaking at the front a a meeting.] [
image description
(inline): Lottie is standing in a street, smiling to celebrate finishing exams, with confetti being thrown at her.]