Transformed By Hope
by Tess Hovil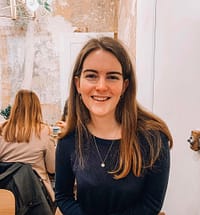 We live in a world that is hurting. We are so aware of this hurt – we see it in the news, on the streets, in our words, in what we read. It makes us want to escape. If we don't choose to look away, if we allow ourselves to respond emotionally, then we are confronted with brokenness on an incomprehensible scale. Distress at the ecological suffering of our world is an example of this. Climate change is bringing about experiences that seem unparalleled, and eco-anxiety is on the rise. We are confronted in the news with the grief of losing land and homes to sea level rise or flooding or fires. A loss of livelihood, of history, of biodiversity, of memory and of community; it feels impossibly sad. As Extinction Rebellion puts it, "we are facing an unprecedented emergency" and the worst part is that "it is of our own doing"[i]. Furthermore, climate change is not only an ecological emergency, it is also a socio-political one: it triggers or worsens a myriad of injustices.
In Jack Johnson's song All at Once[ii], he sings that "as the darkness gets deeper we'll be sinkin' as we reach for love / At least somethin' we could hold". If he is right, then it is in this hopelessness and despair that we feel a desperate need for something tangible to rescue us. The God of the Bible offers an alternative narrative to existential hopelessness. It is not a story that ends in meaninglessness, but in salvation; a story shaped by a hope that radically changes how we perceive the future while giving us purpose in the present. Our response to the suffering of the world needs to be rooted in our secure identity as those designed to worship a God who loves us.
How we treat God's creation, in which we have a designated role of care, must align with our vision of God as its creator. The Psalms point us to God as source of all, as sovereign over all, and as a God who loves and cares for all he has made.
Shout for joy to the Lord, all the earth.
Worship the Lord with gladness;
come before him with joyful songs.
Know that the Lord is God.
It is he who made us, and we are his;
we are his people, the sheep of his pasture. (Psalm 100:1-3 NIV)
 The God of the Bible is limitlessly loving, impossible to rival and deserving of endless praise. Our vision of the world and of ourselves must be built upon our identity as God's created children; as objects of love created for worship.
Our treatment of God's creation also needs to align itself to our vision of God's promises. We must remind ourselves to look beyond the temporal frame and devastating outcome of believing in a world that will wearily fade away or be burned up by the sun. As followers of Jesus, we look ahead to the new creation, to God's promise of restoration and renewal – not just of our bodies or our relationship to God, but also of creation. In Surprised by Hope[iii], N. T. Wright points to the significance of Jesus' resurrection in God's redemption plan:
"God will redeem the whole universe; Jesus's resurrection is the beginning of that new life, the fresh grass growing through the concrete of corruption and decay in the old world. That final redemption will be the moment when heaven and earth are joined together at last, in a burst of God's creative energy for which Easter is the prototype and source."
 Our redemption is freely given to us; won for us by Jesus on the cross. This should be the lens through which we understand our mandate to care for creation. God's approach to production and enterprise is very different from that of large transnational corporations. While Apple seeks consistent replacement and improvement, the world that God designed and created was "very good" in the first place; it is not disposable, but it will be renewed and transformed. This wonderful promise should transform our lives in the present, as we can seek to live and act in a way that belongs to the kingdom of God knowing that what we do is not in vain (1 Corinthians 15:58).
It is from a place of hope that we can find real, unshakeable strength to love our planet well for God's glory, as we and the earth with us await the fulfillment of the resurrection promise. Jesus came into our world as God, as the author of creation, who intimately knew and experienced the very worst of its groaning and pain. And yet his life was marked by deep peace, love and joy. He knew what was at stake and yet he did not rush or panic. He lamented and wept and pleaded, and yet he had the capacity, fuelled by time spent abiding in God, to love holistically. He did so in a way that subverted cultures of oppression and exploitation and shook ill-founded power hierarchies to their core. He gave hope to the hopeless. Through his life, death and resurrection he revealed more fully God's vision of creation to us and invited us to participate in his kingdom plan.
Just Love has recently launched a Creation Care stream, so if you're keen to respond practically to God's call to look after the world around us then get involved! Contact Gina at georgina.morris@mansfield.ox.ac.uk for more details.
[i] See Extinction Rebellion website [external link]
[ii] (Jack Johnson: All At Once) [external link]
[iii] N. T. Wright, Surprised by Hope: Rethinking heaven, the resurrection and the mission of the church. HarperOne, 2008
---
Tess Hovil is an English and French student at Exeter College, currently on a year abroad in France.
Opinions expressed are those of the author, not of Just Love Oxford. Just Love Oxford is not responsible for the content of external links.
[image description (inline): a close-up of Tess smiling.]