by Marie-Louise Klampe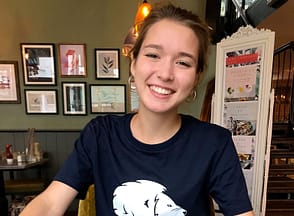 I thought about starting this piece with how the world views self care and the ideal to "just love yourself", but as always it turns out to be for our best to start by focusing on Jesus. So I want to take you on a tour to Mark 6 (verses 30 to 44).
Just before this (Mark 6 verses 1 to 13) Jesus had sent out the disciples in pairs, and they had been travelling with the bare minimum. He told them "wear sandals but not an extra shirt" (and you thought your gap year friend who always wears that same pair of yoga trousers was bad), and so they went. They "drove out many demons and anointed with oil many people who were ill and healed them." Now, fast forward past John being beheaded, eek (Mark 14-29), and the disciples are back with Jesus, filling him in on all that they had been doing in his name. You can see the excitement on their faces, overflowing with anecdotes and stories of the people they'd stayed with on the road, of miraculous healings and of lives being transformed by God's grace. Everyone is talking over one another and it is a joyous chaos of voices. Other people have come and seen this group and want to know what is going on, to listen to the news. In all of this busyness and commotion, Jesus, seeing that there are so many people "coming and going" that they don't "even have a chance to eat," (relatable for us students, right?) says to the apostles "Come with me by yourselves to a quiet place and get some rest."
This is such a refreshing moment. Jesus in his grace knows the human needs of his friends, and invites them to seek solitude, and food with him. I just love how real, or I guess down to earth (see what I did there), Jesus was and is. He hasn't changed since that day, he still wants us to find our rest with him.
So back to loving ourselves and what this has to do with justice.
This meeting and eating with Jesus is the kind of self care we should be yearning for as christians. The world says self care is making sure we're listening to our needs and trying to make sure they are met. Think cooking nice food for yourself, painting your toenails, going for a walk. But our biggest need is for God himself, and he promises he will take care of the rest (have a look at Luke 12 verses 27 to 31 for a snapshot of this: "If that is how God clothes the grass of the field, which is here today, and tomorrow is thrown into the fire, how much more will he clothe you…"). So rather than retreating to a bubble bath or a Netflix binge, we should be earnestly seeking God and taking refuge in him. This needs to be the foundation for anything we do, but particularly if we are wanting to bring God's social justice to our communities.
Ephesians 2 verse 10 says that we are "God's handiwork, created in Christ Jesus to do good works which God prepared in advance for us to do." Yes, we have been called to serve the orphan, widow and foreigner. But we can't do it in our own strength. We need to be doing things from a place of God's love for us, a heart-rather-than-head knowledge that we are his handiwork. I will be the first to say that this is something I have learnt the hard way many a time. (And am still learning, thank the Lord for his constant patience with me). Filling my days with a long to-do list, all of which I am passionate and excited about and feel are part of God's calling for me, without consulting him and resting in him, led me to a place of chaos, exhaustion and being completely overwhelmed. At this point I had to return to the one who made me, and sees every day of my life before it comes to be (Psalm 139 anyone?), whether I cram it to the overflow or not. Even during this strange corona time I found myself getting frustrated that I wasn't able to spend time at the night shelter, but actually it is a privilege not a right for me to partner in God's work, whether that's volunteering or being a witness in my own home. The beauty of our God is that his rest is not only sufficient for us as individuals, but for everyone. Let's jump back into Mark 6.
So where were we? Jesus has pulled the disciples to one side, for a secret snack and catch up, but then the crowds of people have heard where they're going and have somehow run so fast they've arrived before Jesus and his friends! At this point Jesus "had compassion on them, because they were like sheep without a shepherd." Cue the extraordinary act of love and care that is the feeding of the five thousand that most of us know from Sunday school or RE. Do you see, God's provision is enough for the disciples and for the whole crowd? In the same way, if we as mere students are wanting to get involved with homeless outreach, or creation care or any other form of social justice mission as part of Just Love, we will see far greater miracles and changes in people's lives and society if we bring our own needs to the Lord first, as he will provide not only for us but for his whole flock. And we will be able to be so much more effective for him, if we act out of a place of love and rest, than out of our own strength. Filled with the Spirit, we will be on fire rather than burnt out.
---
Opinions expressed are those of the author, not of Just Love Oxford. Just Love Oxford is not responsible for the content of external links.
[image description (inline): a close-up of Marie smiling.]